1987
The airline was established and started operations on June 30 1987, and was originally known as Milne Bay Air. The company was founded and established by Sir John Wild, Snr, a seasoned architect who also became a pilot.
The airline was recognized for the use of two Gruman Goose Aircraft, an amphibious flying boat – registered as P2-JWA and P2-JWB, flying mainly around the Islands of Milne Bay Province.
At this time, the airline was awarded a major charter contract by Chevron Niugini Limited, which launched the airline into the realm of professional corporate charters.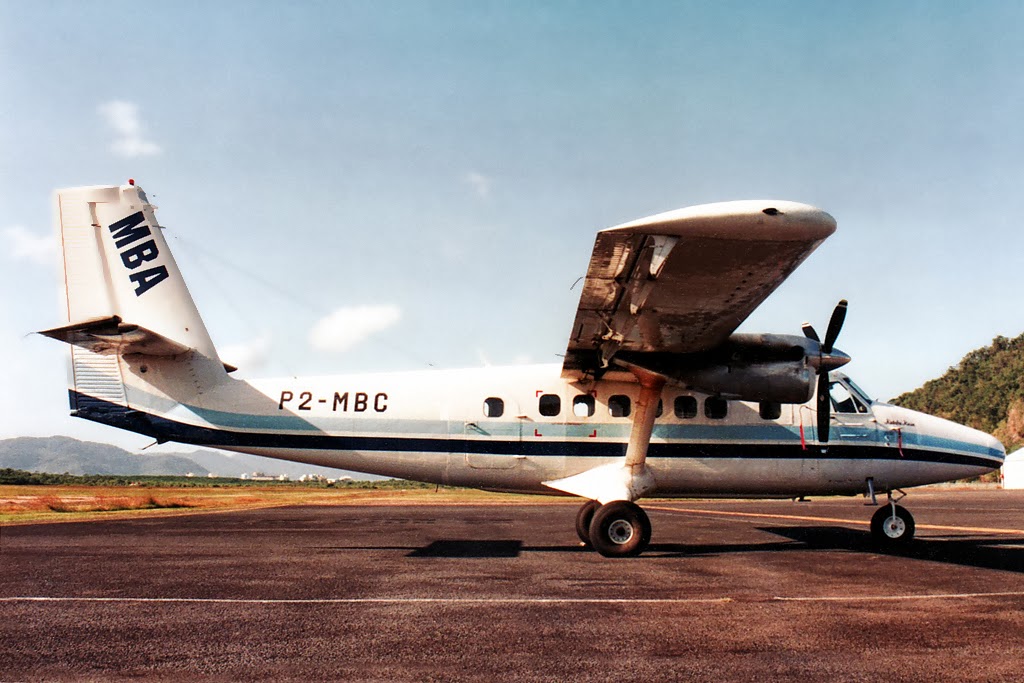 Photo: Paul Howard, DHC 6 Twin Otter
1992
Milne Bay Air then received it's Regular Passenger Transport (RPT) License. 
 This allowed the increase in it's fleet size as it began to cater to both the passenger and charter markets. At the time, the fleet consisted of 1 Dornier 228-200, 2 de Havilland Canada DHC-6-200 Twin Otters, 1 DHC-6-300, 3 Beech King Air 100s, and 1 Cessna 550 Citation II. 
1993
The airline would be renamed and undergo it's first official rebranding – from Milne Bay Air to Milne Bay Airlines of PNG Limited, or MBA. A small but necessary step, as the airline looked to expand and open up to new opportunities at the time, including those in the resource sector. 
From its base at Port Moresby, MBA offered services to Alotau, Amazon Bay, Balimo, Baimuru, Cape Vogel, Daru, Fane, Mt. Hagen, Ihu, Kerema, Kikori, Kiunga, Kuri, Lae, Losuia, Mendi, Misima, Porgera, Tabubil, Tari, Tufi, Vivgani, Wanigela, and Safia.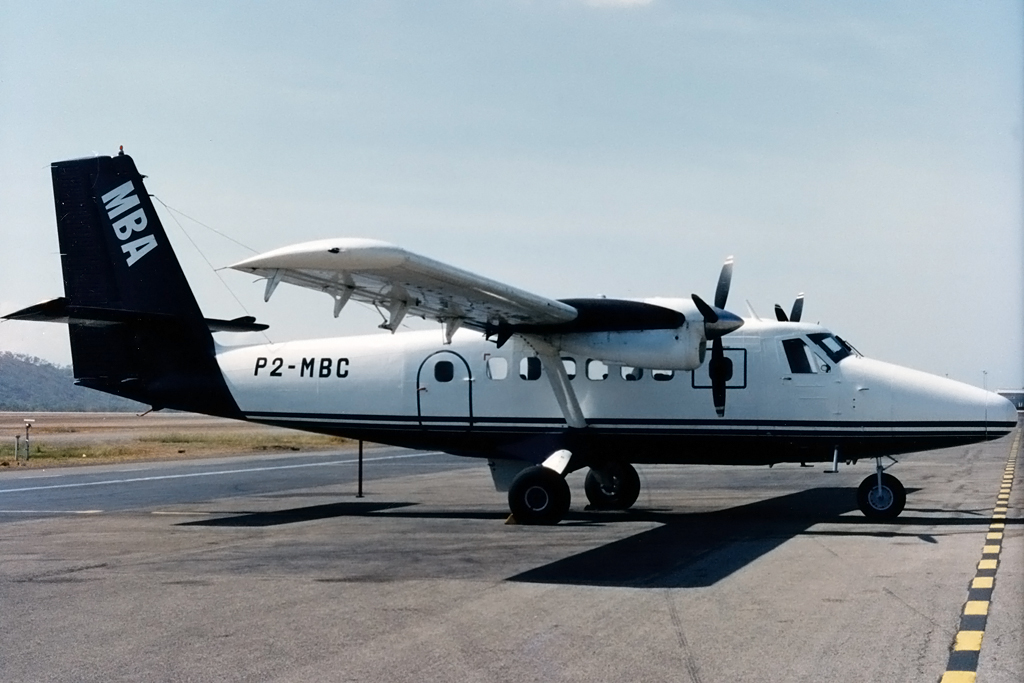 Photo: Lance Higgerson, DHC 6 Twin Otter
1997
Milne Bay Airlines would now receive it's Airline License in March of 1997.
2001
'Come Fly Our Way'.  
 The airline would then be renamed as Airlines of Papua New Guinea Limited – or Airlines PNG. The change in name brought a new look as well to the airline, signifying a shift towards the future.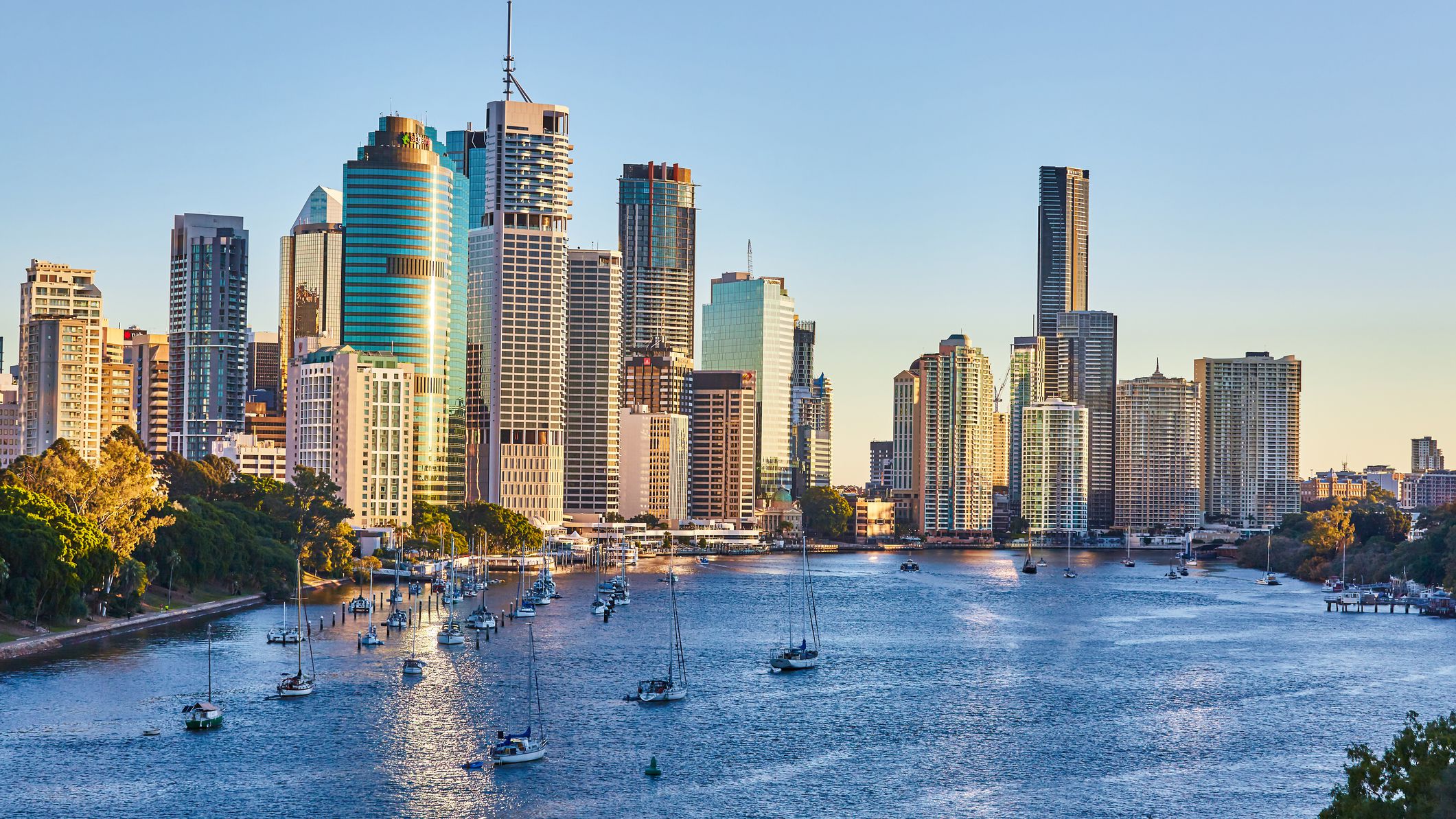 2006
Airlines PNG began international passenger services with the introduction of twice weekly services between Brisbane and Port Moresby. This was operated using a leased Boeing 737-200 aircraft in an all business class layout with economy fares, from just K399 one-way. 
This service would later be replaced two years later in 2008 through a code-share partnership with Pacific Blue (now Virgin Australia). 
International services also serviced Cairns with the Dash 8-100 aircraft. 
2008
At this time, the Airlines PNG fleet consisted of 11 De Havilland (Bombardier) Dash 8, 9 De Havilland DHC-6 Twin Otter Series 300 and 1 Citation 550 Executive Jet. 
Airlines PNG became a public company when it floated on the Port Moresby Stock Exchange. Since listing, the company has been governed by a seasoned Board of Directors. 
The year also brought a new look to our in-flight Magazine – the Airlines PNG 'Our Way' Magazine, which contained stories from all around the country and news from the airline.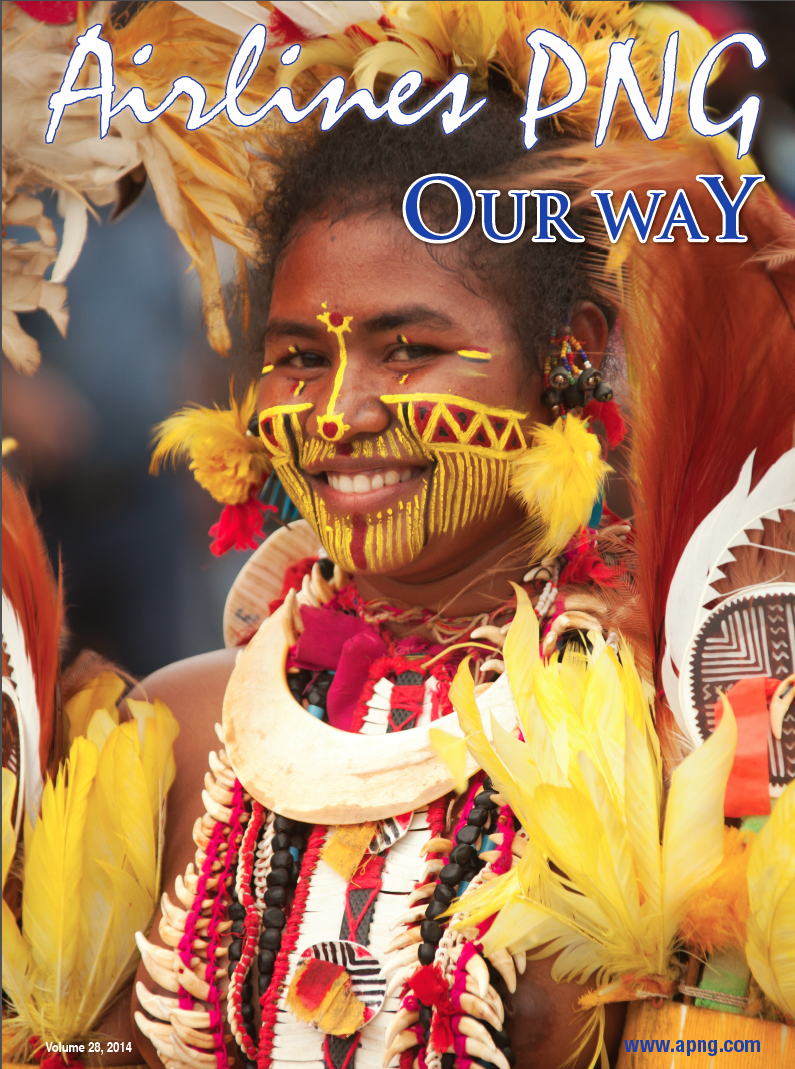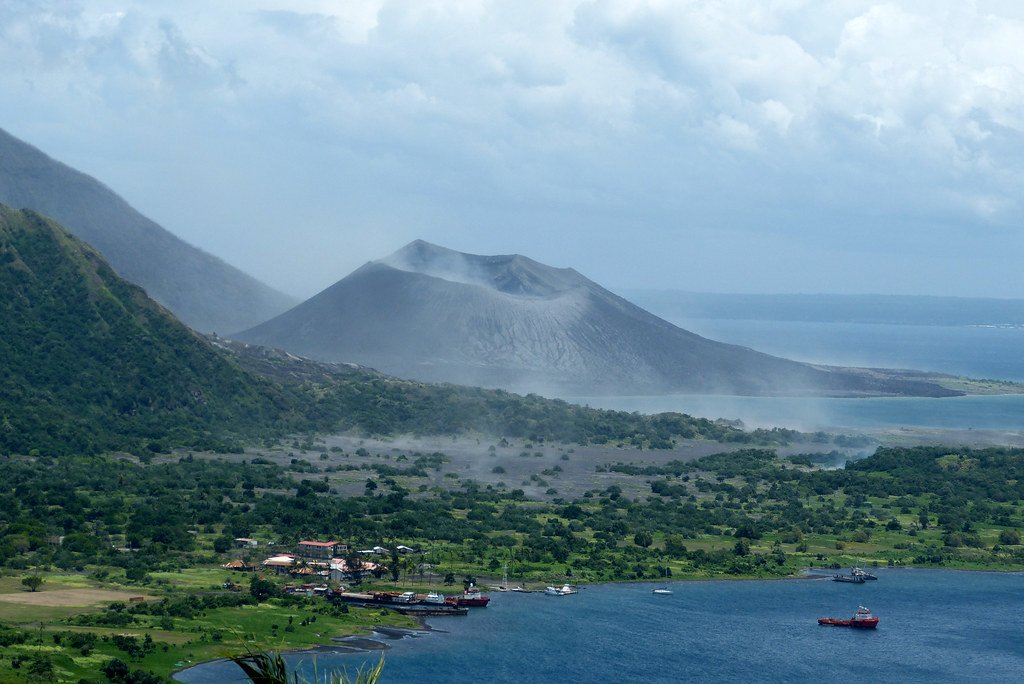 2011
Airlines PNG commenced commercial operations for the first time into the New Guinea Islands, linking Lae with Hoskins (Kimbe) and Rabaul (Kokopo).   
The DHC Dash 8-100 turboprop aircraft operated this service. 
2013
The company's DHC-6 Twin Otters would now exit the fleet, while the DHC-8 100 fleet grew to 14 aircraft. This helped to support the network expansion with additional capacity out of Lae to Madang, Wewak and Popondetta, as well as additional flights to Manus, Kavieng, Buka and in the Highlands to Tari and Moro. 
In December of the following year, APNG would then sign a contract to acquire 6 ATR 72-600 Series Aircrafts.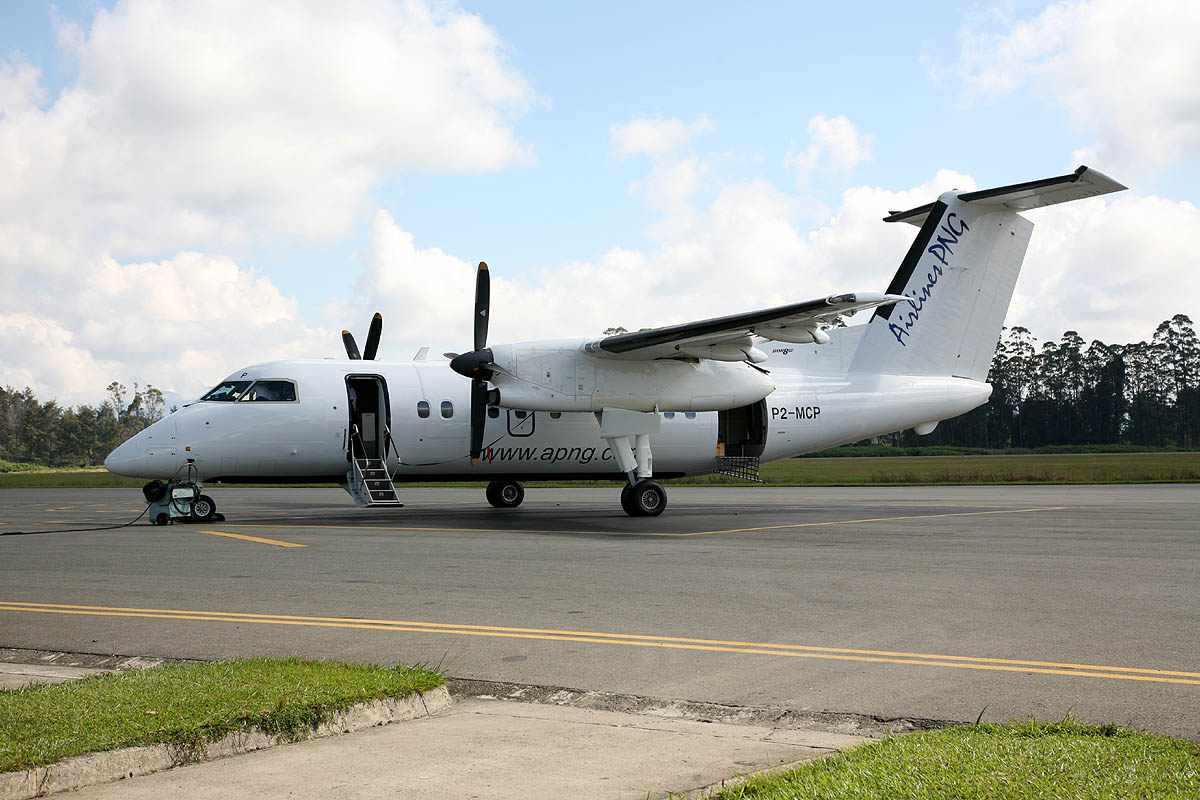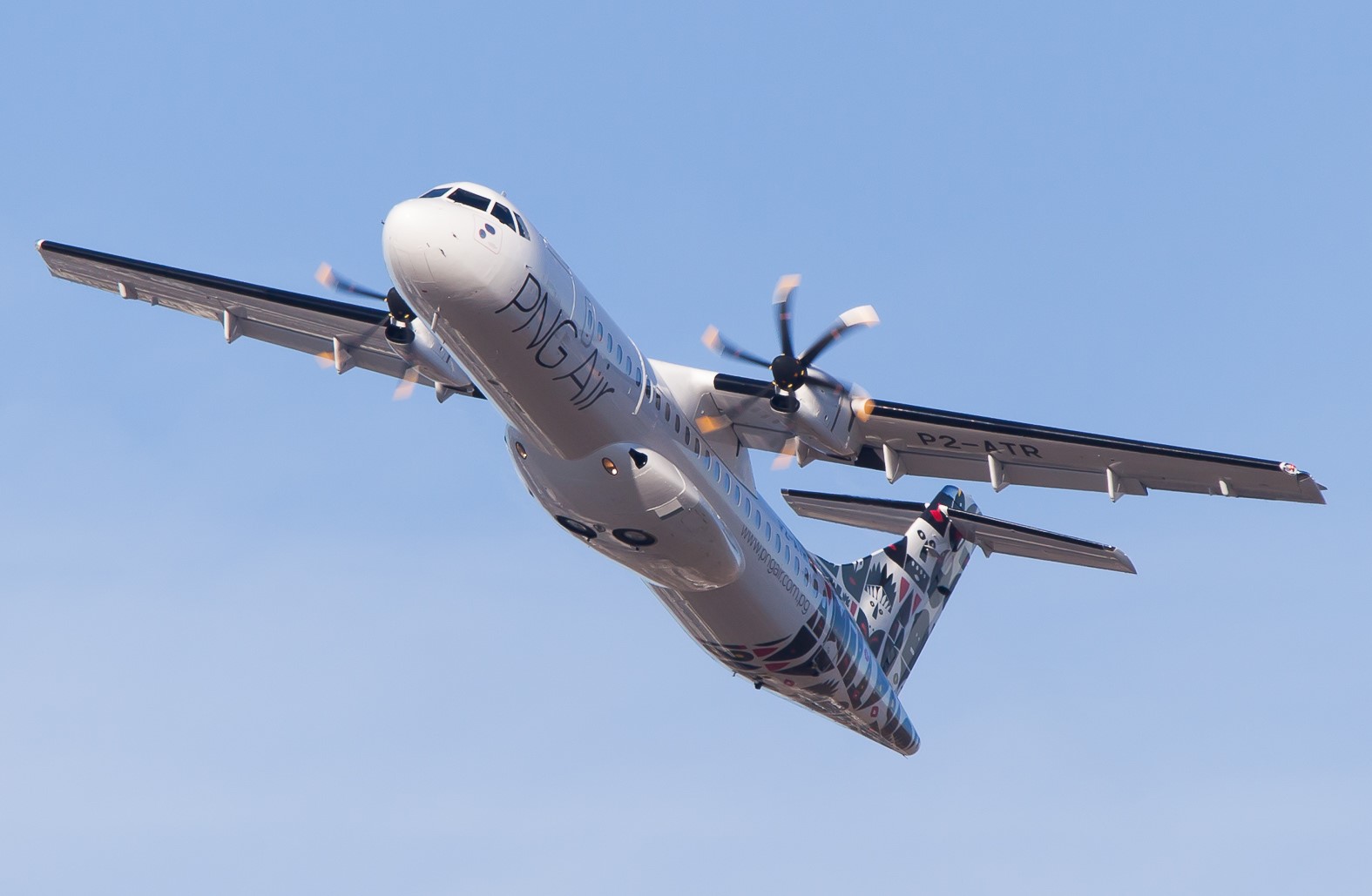 2015
A new aircraft, a new name and a diverse new brand – PNG Air was launched on November 5th 2015 in spectacular fashion in Port Moresby in the presence of the board of directors, airline staff and then Prime Minister, Peter O'Neill, who officiated the ribbon cutting. 
The launch signaled a new direction for the company as we commissioned our very first ATR Aircraft – the ATR 72-600 registered aptly as P2-ATR, debuted new uniforms, in-flight magazine and a new attitude as PNG's next generation airline. 
2017
By the end of 2017, PNG Air received our 7th ATR 72-600 Aircraft, opening up further services to Kieta, Vanimo, Mendi and Wapenamanda. We also saw the launch of our dedicated Dash 8-100 Freighter Aircraft as it entered service, capable of carrying up to 4 tonnes of cargo. 
Our new and distinct livery also made it into CNN Travel's top 12 best airline liveries in the world! A recognition that truly represents who we are as Papua New Guinea's airline.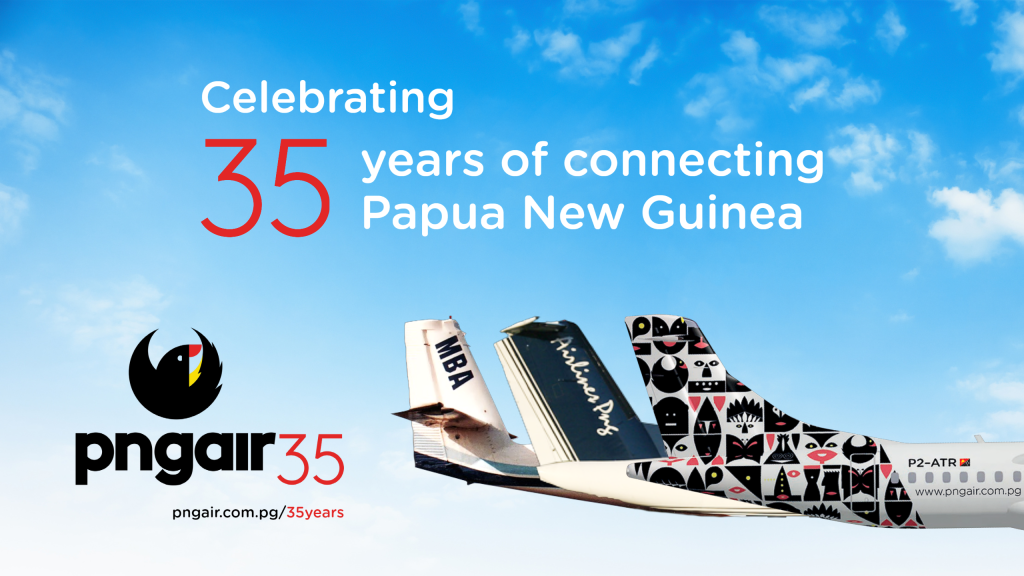 2022
Celebrating 35 years of service to people, communities, businesses and to Papua New Guinea as The People's Airline. 
Our 35th anniversary logo is a representation of all the distinct elements of our livery, represented through the Bird of Paradise.